"PEMF is a benefit for mankind from infant to the geriatric.
PEMF will lead to a change in the paradigm of medicine."
– Dr. Linus Pauling – Double Nobel Prize Winner
Think of your body as a type of battery that runs on direct current (DC) electricity. In fact, all life generates an electrical DC charge. Your cells need this energy to absorb nutrients, remove waste and communicate with other cells – jobs that are important for building and repairing tissue such as muscle and bone as well as your organs. But without the right amount of energy, your cells can slow down and neglect important work, leading to pain, injury and disease.
PEMF restores optimal voltage in the cells by recharging their electrical current.  The gentle pulsing magnetic fields give your cells pure energy thereby helping your body maintain its metabolic functions and optimal health. According to science, nearly all diseases can be traced back to disorders in the cells.  Yale University Professor, Dr. Harold Saxton Burr researched the electrical fields of organisms and published 93 papers from 1932-1956. He found that imbalances in the electrical field of an organ precede the onset of pathology.
PEMF therapy is also known as "energy medicine" and the benefits of energy medicine is hitting mainstream. Dr. Oz says that PEMF therapy is so powerful in restoring cell function that this technology has the power to change the world of health & wellness.
In the past few years "wellness lounges" have sprung up in major cities across Europe. These wellness lounges have usually one or more PEMF beds and customers come 3-4 times per week to lie on them. Not only do the PEMF beds help with any physical pain issue, they detoxify the body, and regenerate health at a cellular level. Each day we're being bombarded by "techno pollution" in the form of Wi/Fi signals and cell phone tower radiation. Add to this, the huge amount of chemicals we digest not only from our food but from our environment, and you can understand why our bodies feel like they are under attack.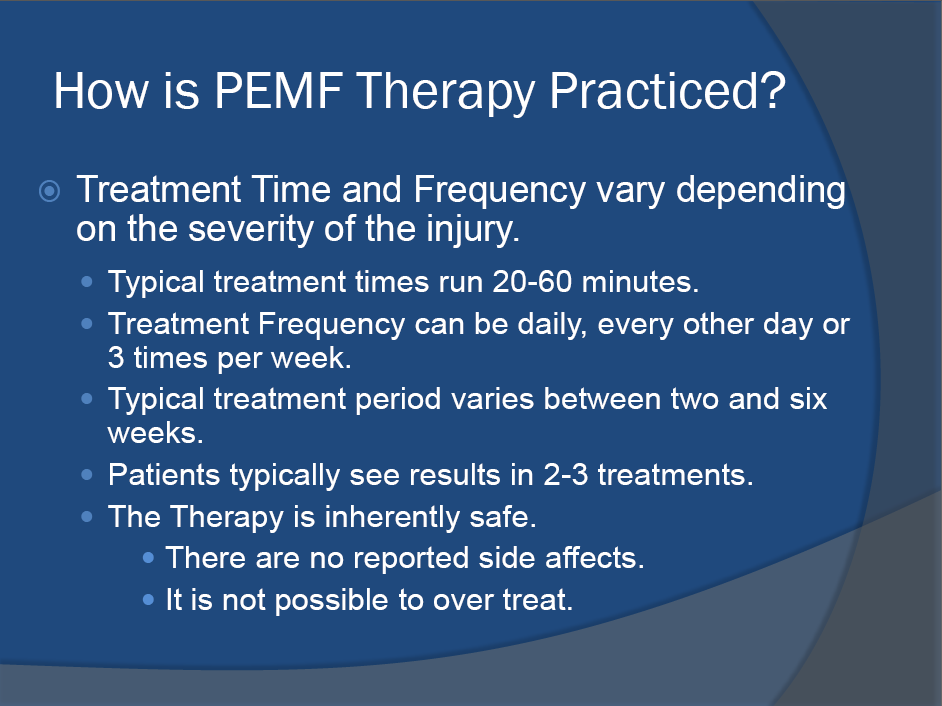 My mother has had chronic pain for many years.  Arthritis, spinal stenosis, and obesity had rendered her body immobile. A year ago, she told me she wanted to die because she could not longer handle the pain. Today, she plants vegetables in her garden and is walking again. What created this turn-a-round? Spending time on a PEMF bed. When I saw the difference it made to her life, I wanted to offer this same solution to other people suffering from chronic pain and health disorders. This is one of the reasons I opened the Grace Wellness Center. I wanted to offer people drug-free alternative therapies that promote health, vitality and longevity.
Healthy cells = healthy bodies! Learn to finally take control of your health by using non-invasive, side-effect-free Pulsed Electro Magnetic Field therapy. Get relief from hundreds of health conditions such as those listed below: Be empowered. Activate your body's ability to heal itself!
When shopping for a PEMF system, I chose the IMRS from the German company, MediConsult. MediConsult is the only company in the world with its own in-house research, engineering, development, and manufacturing divisions, and is the world leader in PEMF systems for home use. Their products have been on the market for over 15 years and they have an estimated 400,000 daily users worldwide in 21 countries.
How many sessions would make a difference to your health and vitality?
PEMF therapy is like exercise. It will help you anytime you do it. If you don't have any health challenges right now, then be proactive and do it once per week. It will keep your cells intelligent so that they can do what they were designed to do.
If you have chronic pain or physical challenges, three times a week or daily use would help you restore health, movement and vitality. If you have tried the pain killers and other drugs, then give PEMF energy beds a try!!
Special Introductory Price:
Buy packages of 10 sessions for $350 + HST or $40 pay-as-you-go.
Each session is 45 minutes
 There is a lot of information out there on Pulsed Electro Magnetic Therapy.  Here are some of my favourite articles and websites.
How Magnetic Resonance Heals the Body by Dr. Pawluk
Physicist, Bryant Meyers  has researched, tested, tried, and investigated the top energy medicine and frequency devices, studying with many of the world's experts. During the past six years he has dedicated his life and research to PEMF (Pulsed Electromagnetic Field) therapy, which he feels is the crown jewel of energy medicine and has now written a book about why he feels PEMF is the medicine of the future. Check out his book here http://www.bryantmeyers.com/index.html
*Disclaimer: High-intensity pulsed magnetic cellular therapy is not intended for the treatment, diagnosis, or prevention of any disease or condition. It is each person's responsibility to consult with his or her health care provider to determine if pulsed magnetic cellular therapy is right for him or her. Please note: Persons with electrical implants of any kind cannot use the PEMF technology.