Grace loves her Goddesses.  She has been running her monthly Goddess Circle for the past 19 years until it was interrupted by Covid-19.  Hoping to resume her workshops once the pandemic stabilizes—she hopes you will join her for a much needed HUG,  personal empowerment, inspiration and emotional connection.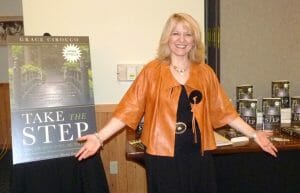 ****THESE WORKSHOPS HAVE BEEN CANCELLED DUE TO THE PANDEMIC**** 
2020 marks the 19th year that Grace has been running this unique women's circle she calls The Goddess Club.  This forum provides ongoing education and support to her "Goddesses"– graduates of her Goddess Retreat Take the Step Intensive.  Her Goddess Community has stretched far and wide.  Grace has provided this opportunity to women because of the research that shows that community is critical for women's emotional and mental health. Open to all women, Grace's Goddess Club is ideal for women who want a more conscious and passionate life. The energy at these monthly workshops is nothing short of phenomenal.  You'll not only leave inspired by Grace's energy and teachings, you'll have an opportunity to make heartfelt connections with other women on the spiritual path.
GODDESS CLUB INFORMATION
When:  

Once per month, See Schedule & Workshop Topics Below  
Time:  7:00 p.m. to 9:30 p.m.
Where: Sovereign House Museum, 7 West River St. Oakville, ON (near Bronte by Lake Ontario)
Cost:  $30.00 per workshop for TTS retreat grads; $40.00 for other Goddesses *tax included.
What to bring:  A journal, pen & a bottle of water for yourself.
Who can come?  ***OPEN TO ANY WOMAN***
How to Register?   You can pre-register  by calling 905-688-0868 or by EMAIL.  Registrations also accepted at the door. Visa/MC accepted.
Goddess Social Dinner at 5 PM: If you can,  join us at Thai Senses restaurant www.thaisenses.ca  for a social dinner before the workshop. Meet new women, connect with Grace and enjoy a delicious dinner. No reservation necessary. Just show up!
DIRECTIONS: SOVEREIGN HOUSE MUSEUM:  Address: 7 West River St. Oakville, ON (near Bronte by Lake Ontario)  Take QEW, then Bronte Road Exit South (towards the lake). Right on Lakeshore Rd. Left on West River Street. Sovereign House is the last building on the left on Lake Ontario. It is a white house right on the lake.  There is a parking lot in the woods right beside it.
HOTELS IN THE AREA: If you're coming in from out of town and wish to stay overnight,  the Holiday Inn at Bronte and Staybridge  Suites are nearby and very nice:  Holiday Inn at Bronte   Staybridge Suites  OR  find your own hotel by clicking here: More hotels click here
2020 Workshop Topics at the Goddess Club:
Mar 10/20 (Tues) Topic: How to Say "No", Put Yourself First & Not Feel Guilty. Many women confess to being "people pleasers"; it seems to be our strength but also our weakness. This need to please and making others happy at our expense is partly to blame for most of our depression and anxiety. Logically, we all know that it's impossible to please everyone all the time–and yet we keep on trying. Whether it's with our parents, our spouse or our children, women typically put themselves last.  By pleasing and giving we hope to find our happiness and yet we sacrifice our authentic Self. Tonight's workshop will examine this mindset,  and offer amazing ASSERTIVENESS skills and solutions so that you can, on occasion, put yourself first and not feel guilty.
ALL WORKSHOPS BELOW HAVE BEEN CANCELLED DUE TO COVID-19. GRACE has done some ZOOM WEBINARS.  If you wish to put yourself on her invite list for her future webinars, please send her an email grace@gracecirocco.com    
May 13/20 (Wed) Topic: Survival of the Kindest; How to Grow Your Empathy "In the end, only kindness matters", sings Jewel.  Now new research shows that if you are kind to people, that it's not only good for them, it's actually good for you! By being thoughtful in word and gesture and knowing how to bring out the best in people actually helps you to live longer! Who knew! One vehicle for growing our kindness towards others is through empathy–I have a theory that one of the reasons why our marriages are declining is because empathy is declining.  If you cannot empathize with someone's struggle, not only is your emotional intelligence weak, but your relationships are probably not that rewarding. Empathy is necessary and teachable. Come brush up on your Empathy skills so that you can increase your happiness quotient and live long and healthy lives.
June 16/20 (Tues) Topic: Extra-Marital Love & Why People Have Affairs: Esther Perel, international expert on extra-marital affairs says men cheat out of boredom and fear of intimacy and women cheat out of loneliness and a hunger for intimacy. Affairs in our culture may be taboo but we need to realize that in many cases, at the heart of an affair is a longing and desire to be seen. In many cases, affairs are wake up calls and can bring new life to a stale marriage. However, the hurt caused by this betrayal can cut very deep and some people take a long time to recover and trust again. Regardless of where you might be on the spectrum, i.e. whether it happened to you years ago, or whether it's happening now, and regardless of who did the cheating, tonight's workshop will explore the a, b, c's of extra marital love and how to heal from the fall out of negative emotions like anger, guilt and shame.
July 15/20  (Tues) In Praise of Slow: Why You Should Slow Down  Living on the edge of exhaustion, we are constantly reminded by our bodies and minds that the pace of life is spinning out of control. Why are we, especially women, always in such a rush?  Beyond affirmations for women who do too much, Carl Honore in his book, In Praise of Slow, is recognizing that challenging the cult of speed is becoming a world wide phenomenon. Is it possible, or even desirable, to slow down? Realizing the price we pay for unrelenting speed, people all over the world are reclaiming their time and slowing down the pace — and living happier, healthier, and more productive lives as a result. Slow movements are making their way into the mainstream — in offices, factories, neighborhoods, kitchens, hospitals, and schools. Are you ready to slow down?
No Workshop in August
Sept. 16/20 (Wed) Owning your Brilliance, Genius & Mastery: Are you really good at something? Do you rock some special skill? Why not OWN it and even celebrate it? I always notice that when I tell people that I'm a Master at what I do, people are always surprised but in a good way.  They like that I can own my expertise and communicate it which only makes them want to learn more about me and my retreats.  It started me thinking that I need to speak about this to women because we, more than men, are famous for downplaying our gifts and achievements for fear of being called "conceited" or "self-absorbed". (God forbid!)   There's nothing enlightened about hiding your Light under a bushel so that others don't feel bad.  In fact, the more you shine, the more you inspire others to shine.  Owning your brilliance and genius and mastery is what this workshop is about. If you want to be more confident and kick ass in your life, or if you want to start a small revolution of self worth in young neighbourhood, then let's start by talking about what you're good at.  And then we're going to scream it from the rooftops–well, not at this workshop, but maybe one day.
2019 Workshop Topics at the Goddess Club:
Jan 23/19 (Wed) Topic: Get Unstuck, Get What You Want & Feel Alive & On Fire!  There's no other time than at the beginning of a year to set an intention for what you want, and put the wheels in motion towards new possibilities, power and potential.  If you've become stale, stuck or mediocre, then it's time to clean out the mental and emotional cobwebs and add some spice and confidence to your hopes and dreams. Grace will lead you through some transformative and powerful exercises so you can plug into outrageous confidence and passionate fire so you can make ANYTHING happen in 2019.
Feb 19/19 (Tues)   Romantic Relationships Q & A with Grace.  No matter where I go, as soon as people find out I'm a Marriage Coach, they are peppering me with questions about their own relationship.  So this month, because of Valentine's Day, I thought  it would be fun to focus on romantic relationships and have an open mike Q & A workshop.  What do you want help with? What advice do you need to cope with the annoying habits of your partner? What new perspective will help you let go and forgive your partner for the hurt they've caused you? Romantic love can exhilarate and excite one minute and irritate and wound the next. Bring all your questions and I will do what I do best: coach, advise and motivate you to not only believe in love but bring your best Self to your relationship.
Mar 20/19 (Wed.) Power Poses & Power Statements for Increasing Your Confidence & Attracting Abundance.  Your physiology affects the state of your mind and how you hold your body influences your emotional state. What if you could give yourself a powerful directive while in the pose? Science says that how you hold your body and what you tell yourself makes a difference. You will get to practice various Power Poses and each pose will have a Power Statement attached to it for maximum impact to your performance and  mental state.
Apr 17/19 (Wed) Meditation for Healing Your Energy Fields   If you're feeling  "off" maybe it's because your energy field are clouded over with negativity and old residual anger. Old emotions can get stuck in our energy bodies and cause us disruptions to our emotional and physical states.  Tonight Grace will lead you through a powerful meditation designed to cleanse and purify your energy fields of any old feelings so you can attract success, and positive relationships.
May 16/19 (Thurs.) Toxic Habits & Patterns  One of the biggest blocks to our personal growth and resilience is toxic habits and patterns that we have adopted over time and can't shake off.  The secret lies in the sub-conscious mind–why habits and old patterns run our relationships and our behaviours.  At this workshop, you will learn how to harness the power of your sub-conscious mind so that you can break free of negative and crippling habits and live the healthy, happy and abundant life you were meant to live.
June 18/19 (Tues) Spiritual Synchronicities: Interpreting the "Signs" from Spirit World   Someone famous once said, I think it was Einstein,  that "There are only two ways to live your life. One is as though nothing is a miracle. The other is as though everything is a miracle." When you pay attention to the synchronicities, you know, those little coincidences that cross your path everyday, you then begin to engage with a magical Universe and allow Spirit to whisper Truths in your ear.  At this workshop, you will learn about synchronicities, serendipity and the spiritual significance they have in your life. 
Happy Summer!  No Goddess Club workshops in July or August.  
Sept. 4/19 (Wed) The First 7 Years: The "Programs" that Run Your Life: The Jesuits were famous for saying: "Give me the child for the first 7 years and I'll show you the adult".  They knew that most of the "programs" that run our life were determined in the first 7 years because that's the time our brain is in what Dr. Bruce Lipton calls "hypnotic brain wave". Do you know that the sub-conscious "programs" your brain absorbed in your first 7 years are more powerful than your conscious mind and are responsible for 95% of the results in your life? Whatever is going on in your health, your relationships, or your career has a direct link to your sub-conscious. Tonight you will learn four simple strategies how you can not only reprogram your own mind but make sure your child has the best chance for life happiness and success!
Oct. 23/19 (Wed) KEEPING HEALTHY BOUNDARIES in your RELATIONSHIPS:  Women are often accused of having "poor boundaries" in their relationships. They say "yes" when they mean "no", and they often feel tired, angry and empty at the end of the day.  Add to that, the fact that women are hard wired to nurture, to take care of and to please people and you have a perfect recipe for unhappiness.  Come learn what "healthy boundaries" look like with both personal and professional relationships and start empowering your life!
Nov. 21 (Thurs) MINDFULNESS AND MEDITATION AND THE SCIENCE THAT SHOWS IT MAKES YOU HAPPIER & HEALTHIER: There is considerable science now that shows that those who take consistent time out for meditation and those who are more mindful about their surroundings live longer and happier lives. Other benefits include being able to navigate stress and negative situations; less reactive and more in control of their emotions. On a physical level, the more you meditate, the more you are able to slow down your body's regulatory systems so that you can better control anxiety and fear; two emotions that are responsible for so much of our dysfunction. Finally, the study found that with regular meditation and mindfulness, we can access JOY and lightness of Spirit and who doesn't want more JOY? Right? This is a hands on workshop where you will get to practice two different types of meditation and mindfulness techniques.
Dec. 4 (Wed)SECRET SANTA NIGHT! Bring a wrapped gift: SOMETHING YOU WOULD LIKE TO RECYCLE–PASS ON–something gently used. Ideas: Purses, belts, books, cd's, shawls  TOPIC:  FORGIVING, LETTING GO & WELCOMING CLEAN ENERGY FOR A NEW DECADE:  As the year comes to a close, and we near 2020, it's important to take stock of old patterns, negative behaviours and toxic relationships that no longer work for you.  Who needs forgiveness in your life? What do you need to let go of? Did you know that forgiveness is not always necessary for healing? After all, forgiveness is for them, but letting go is for you. Letting go, if you know how to do it, is your gift to lead a happier and healthier life in 2020! There is great power and positive potential in "letting go" of what no longer serves your higher good.  At this workshop, you'll learn several strategies on how you can emotionally  "let it go".
2018 Workshop Topics at the Goddess Club:
Jan  23/18 (Tues) Topic: Using Law Of Attraction & Gratitude To Set Intentions For The New Year.  At my January Goddess workshop, I want to teach you how easy it is for you to set "an intention" and then follow through with Law of Attraction principles and the power of Gratitude. This is a hands on workshop to help you chart out your fabulous new year in the areas of health, relationships, career, and adventure by harnessing your internal power of INTENTION! Don't miss this one!
March 27/18 (Tues.) Topic: Changing Negative Beliefs Using Psych-K. Bruce Lipton told us more than ten years ago that Beliefs are everything–that beliefs can actually change the chemistry of our brains and therefore the output of our lives. But when asked: "how do we change beliefs?", Bruce points us towards Psych-K.  Developed by Rob Williams, Psych K is a powerful and easy way to rewrite the software of your mind so that you can change the printout of your life.  A Psych-K Balance is a technique designed to create an identification with both hemispheres of the brain.  This whole brain state is ideal for re-programming the mind with new self-enhancing and positive beliefs, reducing unwanted stress and helping you to access your full potential and happiness.  Grace will teach you this very empowering technique.
April 27-29 (Fri-Sun) Ultimate Girls Getaway: Goddesses Celebrating 15 years.  Co-hosting this all female weekend event with my amazing friend, Nadja Piatka.  My workshop topic: "The Divine Feminine" – Tapping into the Energies of Love and Abundance.   Many women have a dream living inside their heart but they lack imagination and courage to turn it into reality. The truth is that most yearn for more love, more joy, more peace and more abundance, yet many don't dare to dream beyond what they believe is possible. Others believe in their potential but they rarely lift off because they don't have knowledge of all the steps. They haven't been taught how to ignite imagination and push beyond the limitations to create amazing possibilities. In this session you will learn how to tap into your heart's desires and truly come to understand why you are the Architect of your Life, and the Captain of your Soul.
June  13/18 (Wed.) Regrets & Other Mistakes: Too often we  women are super hard on ourselves for mistakes that we have made in the past.  We end up wasting precious energy regretting things we said or did, or didn't say or didn't do.  How do you emotionally make peace with these negatives and find the silver lining? If your mistakes, failures, and regrets take you down the rabbit hole, then you may have to learn resilience techniques and bounce back by "failing forward"?  Maybe you need to forgive yourself?   Mistakes are part of the human experience–learn to make peace with your less than perfect words or deeds and extract the lesson–the opportunity to become a better person.
July 10/18 (Tues) The Power of Imagination: How It Can Transform Your Life.  The Power of Imagination is said by scientists to be the greatest creative force in the Universe. It can both limit you or enable you to reach heights never before imagined or conceived. It's simply a matter of learning to consciously utilize it to transcend the self imposed limitations that you yourself are allowing. Expand your imagination and you'll expand and enhance your entire life.
Sept. 26 (Wed) Using EFT (Tapping) to treat Life's Dramas & Traumas  Wouldn't you love to have a tool in your toolbox so powerful that it could blast away the many anxieties, worries, issues, and traumas in your life? You may have heard about Emotional Freedom Technique but tonight you will have a chance to practice this on your problems and issues. EFT is soon becoming one of the most respected and effective tools for treating trauma in the psychological field. Learn this skill and teach it to your children!
Oct. 23 (Tues) You Can't Shame Yourself Thin/Hate Yourself Happy: The Magical Power of SELF ACCEPTANCE.  Here's the thing. You can't make positive change in your life from a negative emotional place–it does not work.  Self acceptance first, then change. So how do you accept your warts and weaknesses? You will learn  several powerful and effective self esteem exercises that will take you along the road of self acceptance and self compassion.
Nov. 21 (Wed)  How to Not Give a F##k About Everything & Everyone Many women spend too much time worrying about everything and everyone: they either care too much or feel stuck because they cannot control relationships and outcomes. Consequently they feel angry and bitter. Mark Manson's book, The Subtle Art of Not Giving a F##K is an international bestseller because it has struck a chord with people around the world.  He says people make themselves sick because they cannot prioritize their values. They give a "f##k about way too much".  What about you?  What do you care about? Grace will teach you how to prioritize your values so that you don't waste precious energy worrying about everything.
Dec. 11 (Tues) Ho! Ho! Ho! Savouring the Sweetness & Lessons of 2018:  I know you're busy getting ready the Most Wonderful Time of the Year, but it is extremely valuable to hit the "pause button" and "savour" the good especially at this time of the year.  The Science of Savouring has proven that this mental exercise helps to build psychological resilience and generate emotional wellness. Besides, the last time Grace covered this topic everyone LOVED it and had the best time!  Invite your Goddess girlfriends tonight!  Reminder: KRIS KRINGLE: BRING A GENTLY USED WRAPPED GIFT THAT YOU WOULD LIKE TO pass along to someone else. eg. books, accessories, chocolate, etc.
2017 Workshop Topics at the Goddess Club:
Jan  11/17 (Wed) Topic: Real Intimacy—what is it and why we need it in our Relationships. Whether it is romantic relationships or ANY relationship, intimacy is the glue–it is equivalent to food and water for the heart and soul and as mammals, we cannot do without.  Yet so many people have casual and meaningless connections with not much emotional content or support. Over time, marriages flatline, friendships fade, and life becomes all about work and getting things done.  What if someone could help you awaken intimacy with yourself so that you could courageously communicate the juicy stuff in your relationships?  WHAT IF YOU BECAME INTIMATE WITH LIFE? Real joy comes from relationships and intimacy is an investment in your happiness. Start 2017 with this workshop and make it a great year for all your relationships!!
Feb 28/17 (Tues) Topic: Meditation Made Easy for the Woman Who Does Too Much! Recent research says that meditation has huge health benefits.  It literally neutralizes negative stressors in your life.  The problem is that "busy" women don't stop long enough to do it.  For some it's because they're too busy, or they can't settle down long enough without doing something.  But for others, it's because they have this idea that meditation is just too difficult.  At this workshop, you'll learn the basics of meditation and 4 easy techniques for plugging into your Higher Self.  Meditation will make you more loving, smarter and kinder. It will take the edge off of the trials and tribulations of everyday life.
Mar 21/17 (Tues) Topic: Trusting Your Gut – Activating Your Women's Intuition. Life is dynamic and always changing. Is change on the horizon for you?  Are you happy about that or are you stressed because you don't have clarity about which path to choose?  Sometimes we become overwhelmed with the options. That's when we need to learn to plug into our Internal Spiritual Grid System and receive inner guidance so we can make the best decisions. The answers are truly within you—you will learn all about Spiritual Decision Making.
Apr 12/17 (Wed) Topic: Purge, Declutter – Let Things Go! Winter is over and spring is in the air.  It's a perfect time to clean out the cobwebs in all areas of your life—your relationships, your work, your home, your health, and really ask yourself, what do you need to let go of in order to welcome in new energy and amazing possibilities.
May 16/17 (Tues) Topic: Tapping Into Abundance & Flow. What is the secret to success and abundance?  If you have forgotten how the Laws of Manifestation work, tonight's workshop will teach you how you can remove the barriers of fear and anxiety and welcome higher energies into your body.  You will understand the mindset and the emotions of letting the River of Abundance flow back into your life.
June 14/17 (Wed) Topic: The Nurturing Power of Female Friendships: The Science of Female Bonds: Women are genetically hard-wired for friendship. Not only that, but female bonds change our cellular make-up!  Harvard Medical School showed that the more friends women have, the less likely they are to develop physical impairments as they age, and the more likely they are to lead a contented life. The study also showed that not having friends or confidants is as detrimental to your health as being overweight or smoking cigarettes. David Spiegel who studied the survival rate of women with breast cancer found that women who had a strong, supportive circle of friends outlived their counterparts who lived in social isolation. So what about you? Do you have nurturing female friendships? Come learn the 7 essential ingredients of true female bonds and how to grow and sustain them. Learn the power of female intimacy and how sharing the burdens of life with our soul sisters makes us happier and healthier!
July 11/17 (Tues) Topic: Finding Your Spiritual Purpose:  What does it mean to have a spiritual purpose? More and more people seek meaning and significance.  We have jobs and families but we also crave to leave something behind, to make a difference in this world. Aristotle said that one's purpose is merely a matter of knowing where one's talents and the needs of the world intersect.  If you have wondered about your soul's journey and purpose, or hungered for something more, this workshop will offer you inspiration and soul food.
Sept 20/17 (Wed) Topic: Re-Aligning your Inner Chakras: You have energy centers inside you called chakras and if they are misaligned or blocked, you may not be living your best life.  For example, if you have suffered loss or an ending,  your heart chakra may be blocked or damaged.  If you need to speak up but rarely tell people what you think, your throat chakra may not be functioning. And if you feel disconnected to the earth and to your tribe, your root chakra maybe scattered.  At this workshop, you will experience a powerful meditation that will balance and align all your energy centers so that you can step out with creative energy and power.
Oct 24/17 (Tues) Topic: The Art of Enjoying Life: 7 Essential Steps. Do you make time for family, friends and fun or are you always busy constantly overscheduled and always doing stuff around the house?  Some people work hard, but if a friend or family member calls, they can drop everything and go out and have fun.  Others are addicted to the "to do" list and become enslaved by it.  Their sense of Self is connected to "doing" and not "being".  It's time to be spontaneous and put relationships first. The jobs around the house will always be there. Tonight, let's master the "art of enjoying life".
Nov 15/17 (Wed) Topic: The Sting of Disillusionment:  Have you been seriously let down by someone or something? Disillusionment is a  deep disappointment that something is not what we believed it would be. Disillusionment is a betrayal. It can trigger deep feelings of sorrow and loss. Whether it's a friendship that comes to an end,  a new house that disappoints or an expensive vacation gone sour, dealing with the sting of disillusionment and understanding the hurt behind it often leads to greater self awareness and spiritual growth.
Dec 13/17 (Wed)  PLEASE BRING A WRAPPED CHRISTMAS GIFT FOR OUR ANNUAL KRIS KRINGLE EXCHANGE!  No need to buy something new—instead let's pass on something we no longer need or want.  Ideas: Books, jewelry, accessories, purses, etc.    Topic: Keeping Up with the Jones': When Will It Ever be Enough?  What energy do you expend each day to "keep up" with others, or with society's expectations, or with the desires of your children or with your own idea of who you should be? Where do you get the drive to be more, make more in order to impress and conquer?  What if you could challenge your idea of success and not worry about the Jones'?  If you're constantly exhausted and weary, it could be that your inner compass is off.  As the year comes to a close, come and reset.  Come and figure out what is important to you and why.